Fortitude Gold Intercepts 3.05 Meters Grading 30.94 g/t Gold Within 24.38 Meters Grading 6.01 g/t Gold at Golden Mile
Colorado Springs, Colorado – February 22, 2023 – Fortitude Gold Corp. (OTCQB: FTCO) (the "Company") announced multiple high-grade gold drill intercepts at its Golden Mile property in Mineral County, Nevada. Intercepts include 3.05 meters grading 30.94 grams per tonne (g/t) gold within 24.38 meters grading 6.01 g/t gold, and 4.57 meters grading 5.12 g/t gold within 19.81 meters grading 1.80 g/t gold. Fortitude Gold is a gold producer, developer, and explorer with operations in Nevada, U.S.A. offering investors exposure to both gold production and dividend yield.
Golden Mile drill highlights include (m=meters, g/t=grams per tonne) (full drill table below):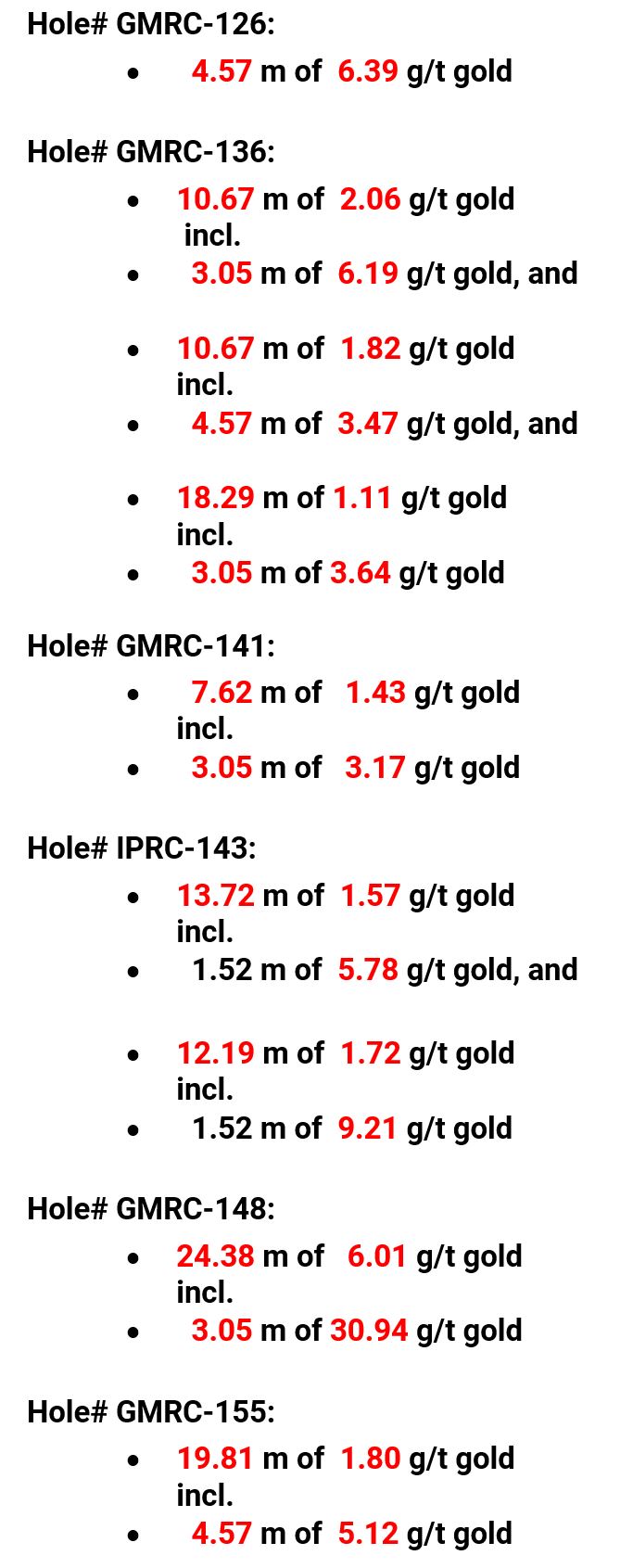 This latest Golden Mile drill program was designed to infill and connect deeper mineralized zones within the main resource area as well as test mineralization extension potential to the east beyond the main mineralized area. Multiple holes encountered high-grade gold at various zones and elevations within the original resource area as well as gold intercepts east of the main resource area.
To-date, Golden Mile mineral resource delineation drill campaigns were designed to target a geologic model of multiple fault and vein structures. This model resulted in drill hole directions predominantly in a northeast and southwest orientation. Various mineralized intercepts encountered during 2022 have introduced a new geologic model whereby the gold mineralization in the skarn is also stratabound, as numerous tabular or flat lying beds with multiple elevations and mineralized zones were intercepted. Additional drill campaigns are planned to efficiently test the open areas of the new skarn-related stratabound geologic model by drilling in new and varying orientations relative to the updated model.
While further delineation drilling is needed to target the connection of numerous gold-bearing zones intercepted to-date, management is currently analyzing and advancing a phase one open pit shell design and potential mine build. The phase one open pit would target production from surface and near surface gold mineralization. Further delineation efforts are expected to add additional open pit phases. The permitting process already underway is incorporating a phase one open pit approach. The plan is to then add pit laybacks (similar in concept and execution of the pit phases at the Company's Isabella Pearl mine) as further delineation of the mineralization allows.
In preparation for a positive production decision and in response to the recent years of dramatic inflation, supply chain issues and limited material and equipment availability, equipment and materials for Golden Mile that have been purchased to-date include crushing equipment, grasshopper conveyors, heap leach pad liner, a modular carbon recovery plant (built offsite), operational rolling stock to include a loader and bulldozer, modular office space among other materials and equipment. Golden Mile capital investments to date total approximately $9 million, and the Company has taken delivery of much of this material and expects to take delivery of remaining items in the near-term.
"These latest drill results from Golden Mile continue to demonstrate growth potential with significant zones of high-grade gold," stated Mr. Barry Devlin, Vice President of Exploration for Fortitude Gold. "Based on drilling to-date, our geologic understanding of the intervals that host gold mineralization has evolved from an initial fault and vein hosted system to one in which the gold is also in stratabound, tabular zones. We have modified our upcoming drill campaign to better test the stratabound gold-bearing stratigraphic model. While we continue to intercept mineral at numerous elevations and zones, testing the new model could allow for more connections of the gold-bearing zones. After we have thoroughly tested the new model, we plan to update the current resource and/or convert it into a reserve."
"It is very exciting to intercept twenty-four meters , or seventy-eight feet, of over six grams per tonne gold, among other additional high grade gold intercepts, at our Golden Mile property," stated Mr. Jason Reid, CEO and President of Fortitude Gold. "We remain consistent with our goal of advancing mines into production at the earliest possible point in time. Near-term potential to make a production decision based on an initial phase one open pit is possible. This would add to our production profile while we target additional mineralized zones in subsequent pit phases."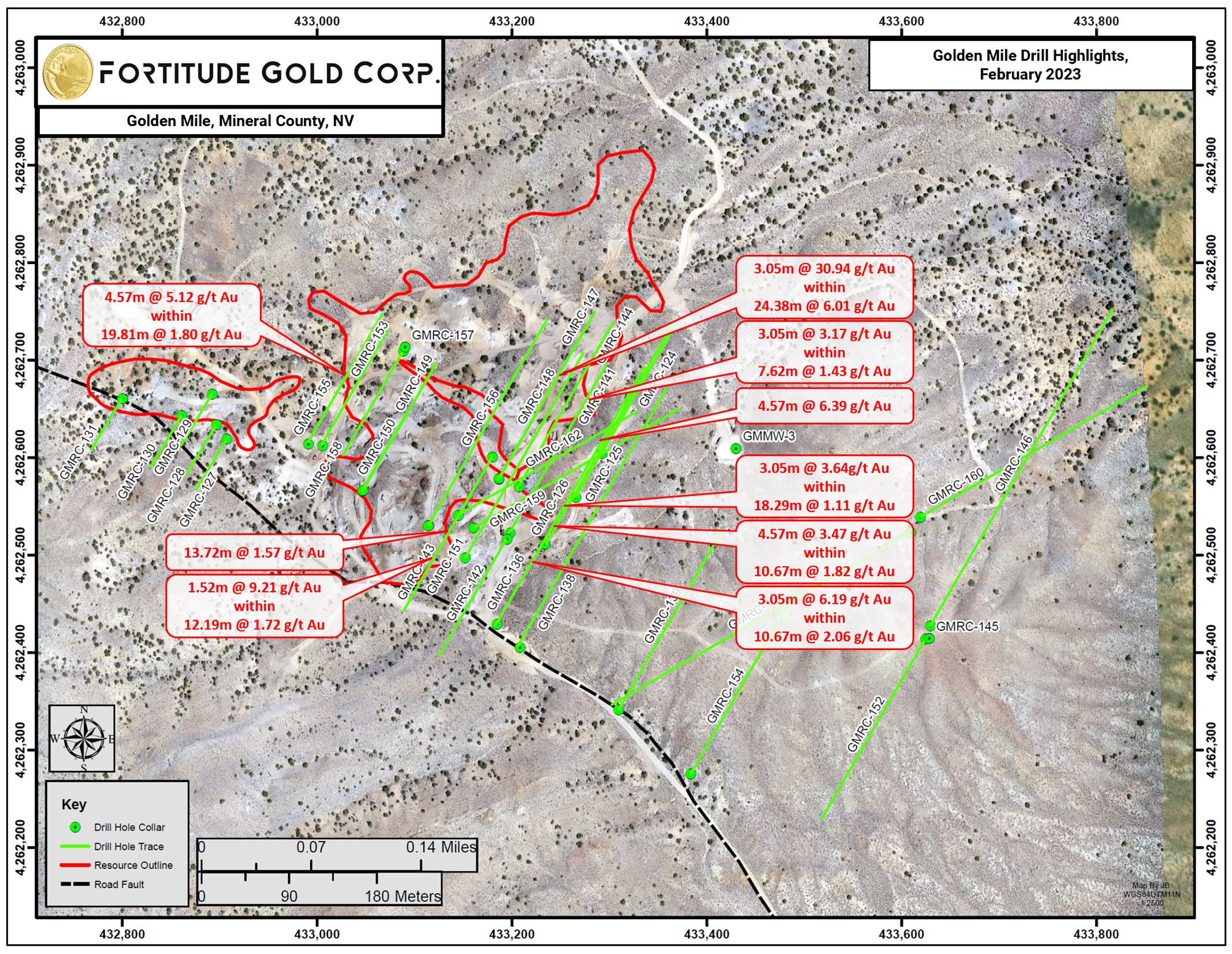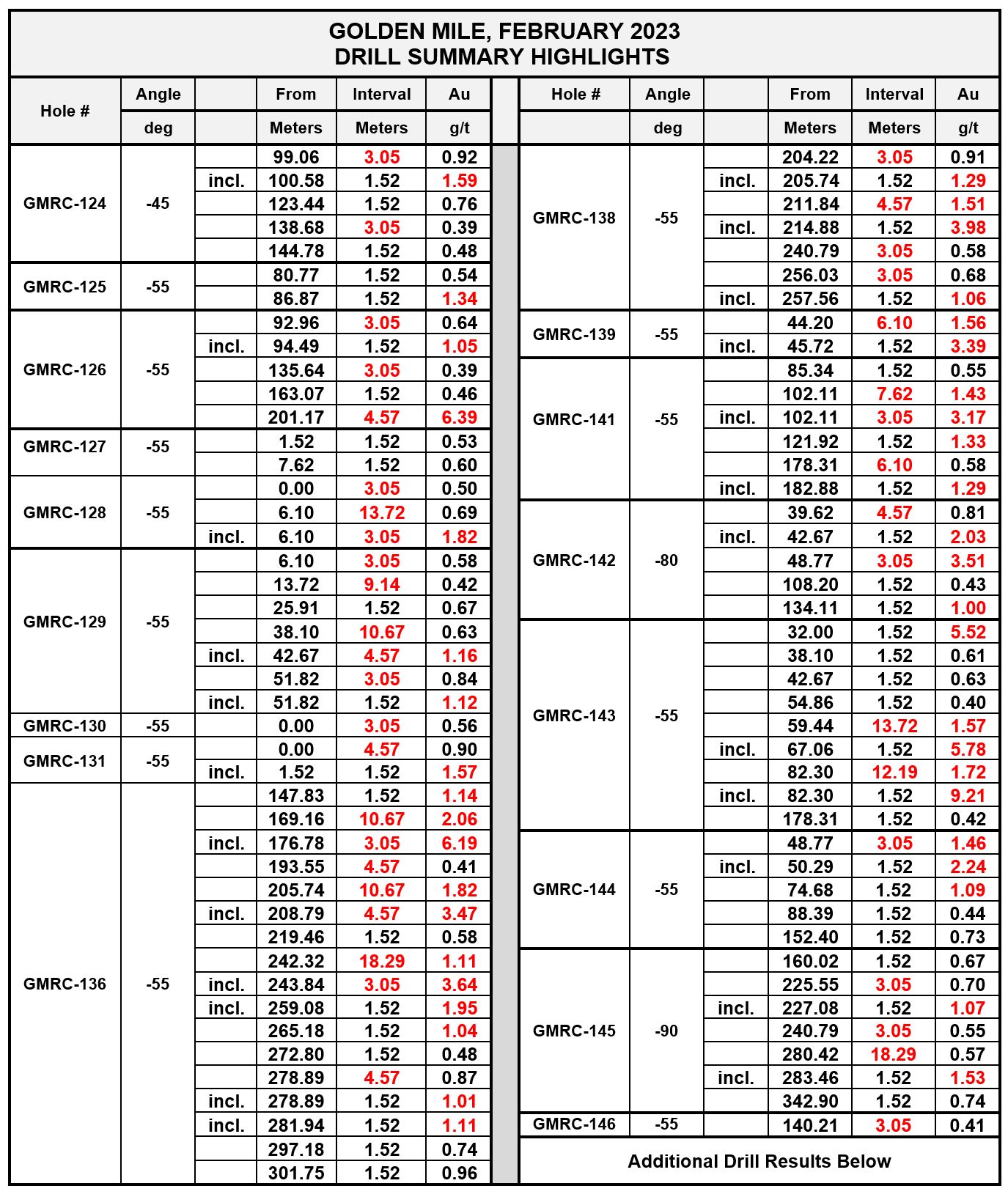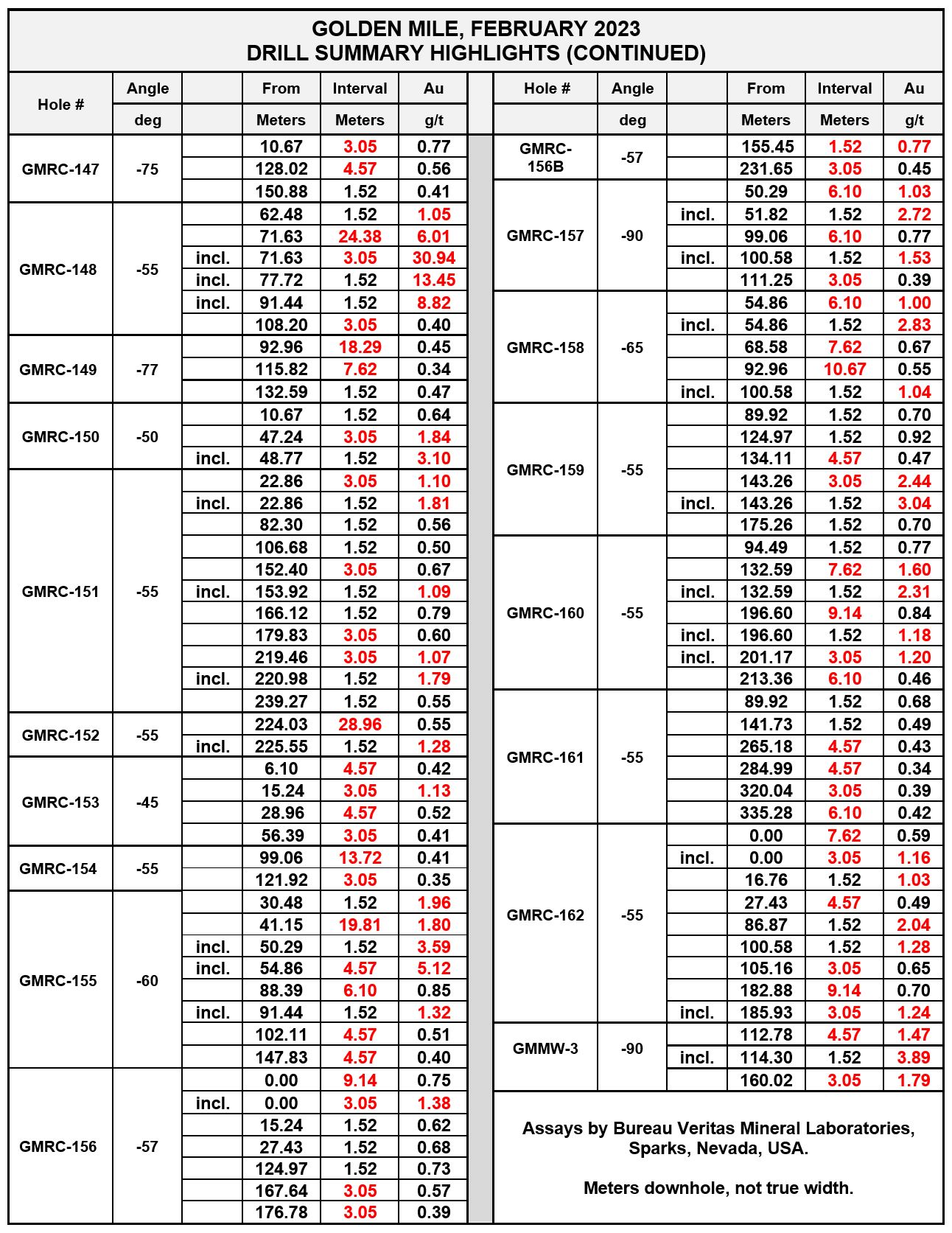 About Fortitude Gold Corp.:
Fortitude Gold is a U.S. based gold producer targeting projects with low operating costs, high margins, and strong returns on capital. The Company's strategy is to grow organically, remain debt-free and distribute substantial dividends. The Company's Nevada Mining Unit consists of five high-grade gold properties located in the Walker Lane Mineral Belt and a sixth high-grade gold property in west central Nevada. The Isabella Pearl gold mine, located on the Isabella Pearl mineralized trend, is currently in production. Nevada, U.S.A. is among the world's premier mining friendly jurisdictions.
Cautionary Statements: This press release contains forward-looking statements that involve risks and uncertainties. If you are risk-averse you should NOT buy shares in Fortitude Gold Corp. The statements contained in this press release that are not purely historical are forward-looking statements within the meaning of Section 27A of the Securities Act of 1933 and Section 21E of the Securities Exchange Act of 1934. When used in this press release, the words "plan", "target", "anticipate," "believe," "estimate," "intend" and "expect" and similar expressions are intended to identify such forward-looking statements. Such forward-looking statements include, without limitation, the statements regarding the Company's strategy, future plans for production, future expenses and costs, future liquidity and capital resources, and estimates of mineralized material are forward-looking statements. All forward-looking statements in this press release are based upon information available to the Company on the date of this press release, and the Company assumes no obligation to update any such forward-looking statements.
Forward looking statements involve a number of risks and uncertainties, and there can be no assurance that such statements will prove to be accurate. The Company's actual results could differ materially from those discussed in this press release. In particular, the scope, duration, and impact of the COVID-19 pandemic on mining operations, Company employees, and supply chains as well as the scope, duration and impact of government action aimed at mitigating the pandemic may cause future actual results to differ materially from those expressed or implied by any forward-looking statements. Also, there can be no assurance that production will continue at any specific rate.
Contact:
Greg Patterson
719-717-9825
greg.patterson@fortitudegold.com